On the eve of the summer vacation, in the IVYgreen campus, with the blue sea and sky as the background, a lively summermarket started. Teachers, students, parents and international friends gettogether, tasted food, communicated with each other, watched talent show, and spenta beautiful day.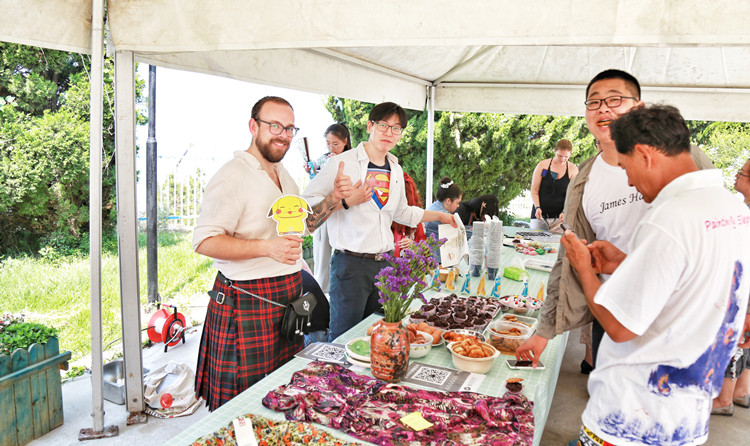 Make an appointment at a summer market
Summer market is a market in summer.
The sun was shining fiercely. The trees wereswaying and dancing. With the music played, the sweet of watermelon flowed inthe air, and cool drinks and coconut water sweated. Some teachers and studentsdressed up with floral dress and straw hats, which added a lot of funs in themarket.
The market is the theme of the morning.IVY's friends and teachers set up their own "business" in the earlymorning, advertising, drawing pictures on the blackboard, setting up boothswith fruits, desserts, milk tea, dolls and other items, and waiting for"customers". Some teachers and students make cakes, drinks and otherdelicious food by themselves.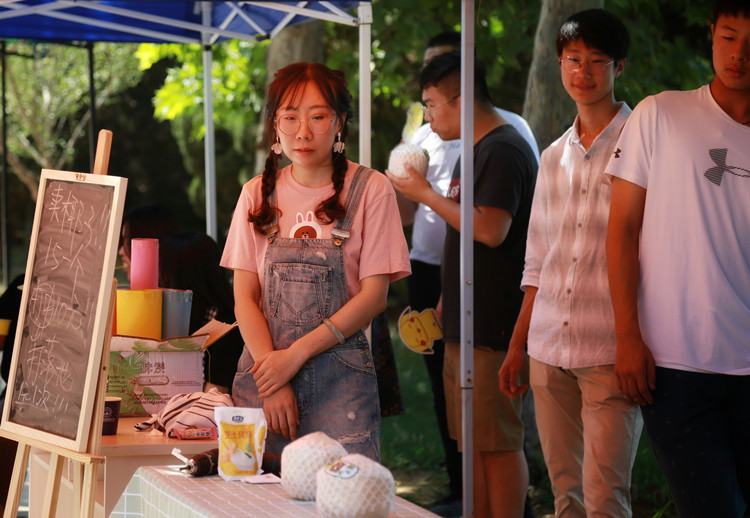 Sign on IVY sailing board
Except for delicious food, there were some creativegames. In order to make the market more interesting, teachers are reallypainstakingly. They prepared darts balloons, poker games and other games, that leteveryone enjoyed the market time.
Look! There are two pretty fairy who travelthrough universe of time.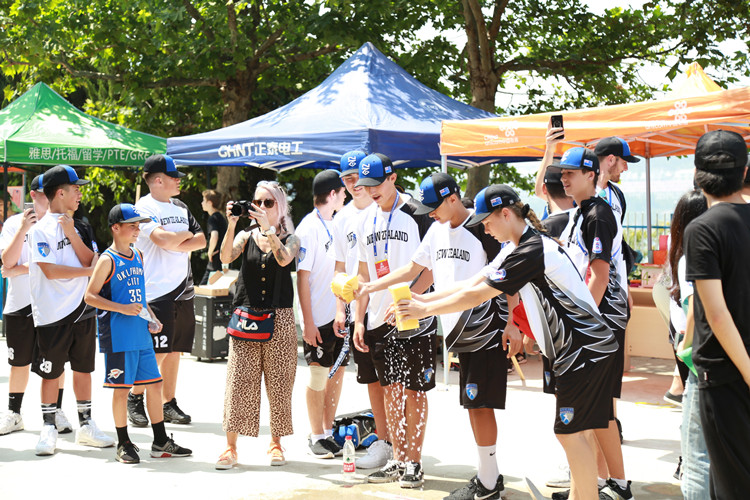 On this hot summer day, IVY campus is fullof happiness, which dilutes the sadness of graduation and draws a perfect endingfor this semester. Parents, students, and teachers joined together in thesummer market, had a harmonious atmosphere of open chat aspirations; parentsand children spent a rare parent-child time; teachers and students were asclose as friends.
At lunch time, the school canteen prepareda special lunch for teachers, students and parents. What was special was thatour principal put on the white chef's clothes and took food for students andteachers in person and brought good wishes to IVY students. Wished everyone abright future, everything goes smoothly, and everyone get great success.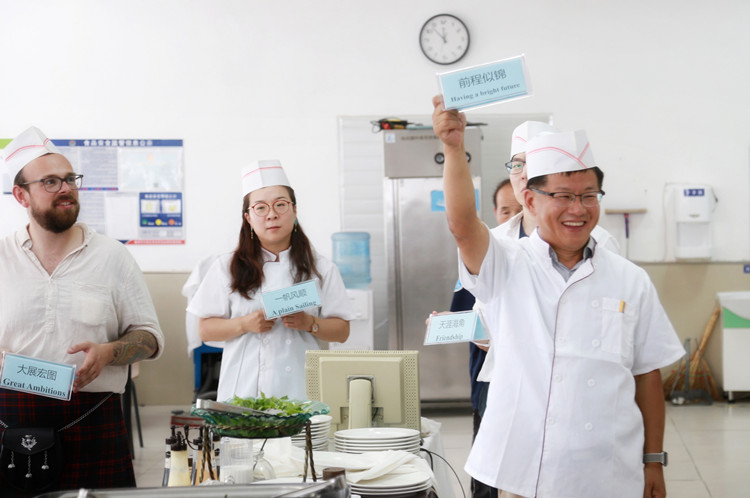 Wonderful Talent Show
If the theme of the morning is food andgames, then the theme of the afternoon is talent and performance. At 2 PM,teachers and students have gathered in the activity center on the third floorand waited for a wonderful performance. The talent show included singing, drum set,magic, African drum, model show, handcraft show and so on.
Leon and Sebastian are the hosts of thisshow.
Ren Peng, graduated from Tsinghua academyof fine arts, Nottingham Trent University and Royal Music College, came to thescene as an invited guest and brought African drum performance for teachers andstudents.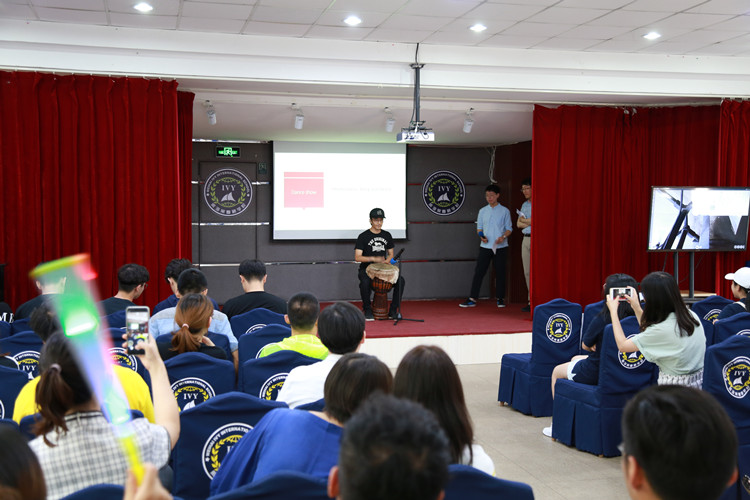 Principal John's talent is a magic show ofplaying CARDS. How was the card that was remembered by the audience found bythe magician from the thick playing CARDS?
Monica teacher showed us how to fold apuppy with a balloon. A long balloon was folded into a complete puppy byMonica. The teachers and students under the stage also folded a cute puppyaccording to Monica's method.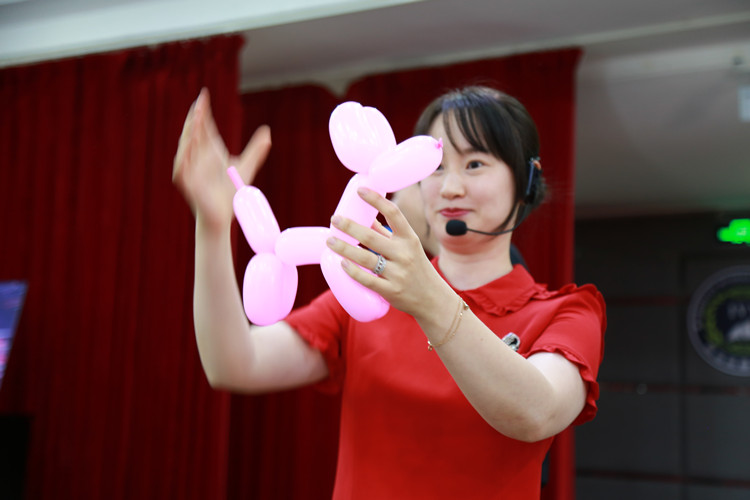 Teacher Monica showed how to make a puppyfrom a balloon
Our IVY friends opened their model show. Afterdressed up, they all looked like stars waling on the stage with professionaland fashion steps.
There are also students who brought their songsthat have their own style. Frank's drum set performance won unanimous praisefrom the audience. The dynamic rhythm and drumbeat are full of rock and roll!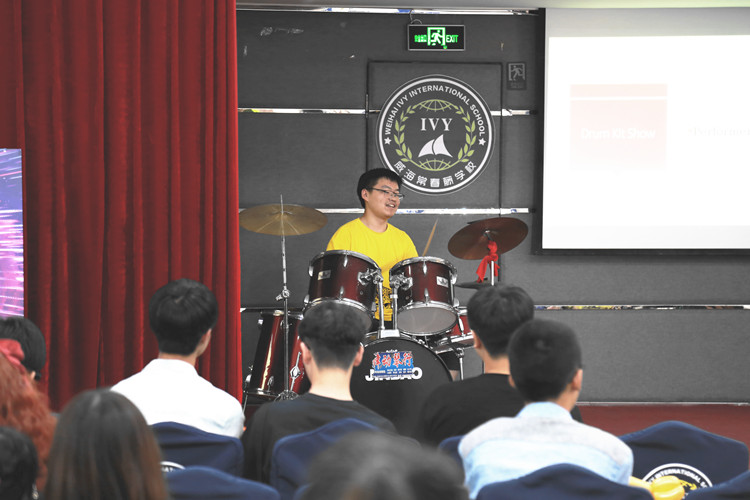 After the performance, IVY Ted Talk specialguest Ren Peng shared his experience of studying in the UK and his thoughts oflife for the students. He encouraged the students to follow their hearts tochoose the path of life and try new things. In addition, he also shared how toimprove the ability of artistic creation. Mr. Tang Cheng, from the Hong Kongsailing association, shared his sailing experience and life experience, whichbenefited the students.
To sum up the day in three words, it is 'eat','play' and 'show'. This international style campus activity makes studentshappy and gain a lot. IVY's friends vividly performed 'work hard and play hard',which made their campus life more interesting.
The 2019 summer vacation came to asuccessful end. Looking back on this semester, there were a lot of harvest,deep feelings, growing pains, but also a bright future. Hope IVY's young peoplecontinue to move forward and reach their dreams.